'Tis the season for some of our favorite things, like comfort food and a decadent sweet treat.  So, break into a bit of butter and get ready to make some of our favorite festive recipes to share and celebrate the holiday season. 
These particular treats are especially well suited for sharing.  Whether it's decadent crème fraîche chocolate truffles in a weck jar with a bow or a dense and rich gingerbread cake boxed up, they'll hold up to being dropped off on a doorstep.  And who doesn't love receiving a surprise box of goodies?
We also included a few savory items like an herbed compound butter and marinated goat cheese that will up the festive feasting, or also serve as a nice treat to share.  If you've never tried making your own compound butter, we highly recommend it – it's super simple, highly customizable, and feels really special when serving on fish or steak, or even on top of potatoes or roasted squash. 
So, if you're looking for a festive gift to make with your own two hands to share with someone you care about, give one of these recipes a try. 
8 Recipes Designed for Gifting
1. Peanut Butter Bark
This peanut butter bark is two layers of dark chocolate with a peanut butter filling and it's seriously delicious.  It's kind of like a buckeye, but without the rolling of the filling and then dipping into chocolate.  Instead, we keep it super simple by spreading each layer of chocolate and peanut butter filling on a sheet tray.  It makes a big batch which makes it easy to keep some and share some.  So, break out the chocolate and get ready to make a bark that's festive and delicious.

2. Cranberry Tart
This simple cranberry tart is truly delightful. Tart and bright cranberries are baked in an almond paste frangipane filling all held together in a buttery crust. We particularly love thick wedges of this tart topped with a dollop of lightly sweetened cr?me fra?che for an extra decadent finish.  Pro tip:  to sweeten your cr?me fraiche, add in a few tbsp of powdered sugar, a dash of pure vanilla extract or bourbon and whisk to combine.  If your cr?me fra?che is not holding a soft peak, you can whisk it until it holds one, just don't go too far or you'll turn it into butter – also delicious.

3. Buttery Ginger Cookies
We love a thin crispy cookie with a great snap. Even better when it's extra buttery. This family recipe from Sweet Paul Magazine, calls for potato flour, which gives these cookies an extra depth of flavor. Since butter is the star of this show, you should be sure to use the best quality available. Here's our cookie secret, whenever we're baking cookies, we always double the recipe and either stash half of the dough in the fridge for later, or have plenty to share.

4. Crème fraîche Truffles
Orange and chocolate is a flavor combination for the ages. We love these little treats from Sweet Paul Magazine, because they're not overly sweet, but absolutely decadent. This is a recipe where you should break out your highest quality chocolate and cocoa powder. It won't go unnoticed. Our tip for rolling the truffles is to start by using a spoon to scoop a portion of the ganache into a rough ball, and then roll with your hands.  This keeps the contact with your warm fingers to a minimum and helps you move quickly through shaping them.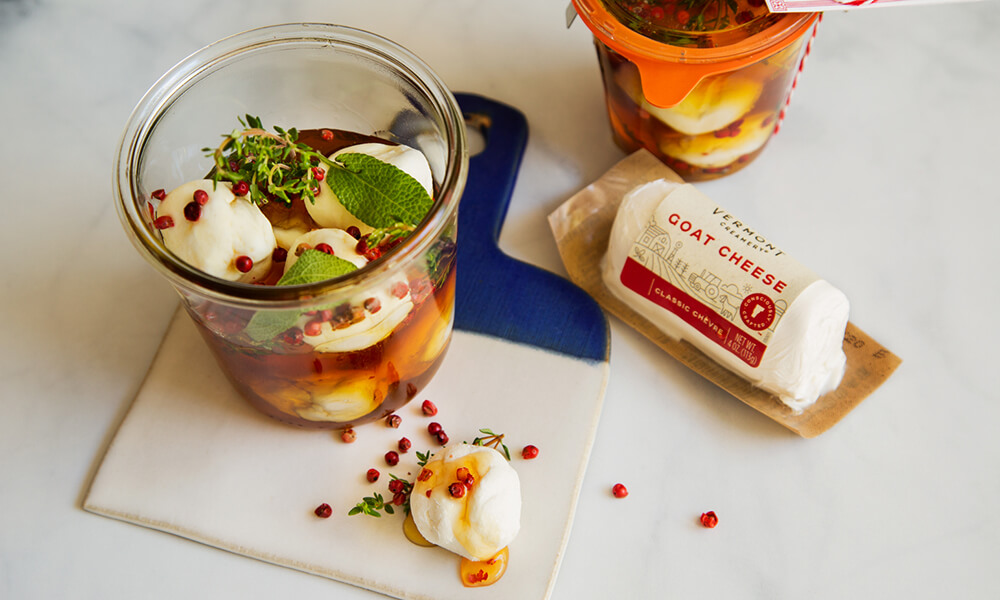 5. Honeyed Goat Cheese with Herbs
This is the perfect gift to give any goat cheese lover! The honeyed goat cheese balls are perfect on crusty bread, served alongside a cup of tea. You can get creative with your spice and herb combinations and using local honey can be even more special. We love not only how easy it is to make this honeyed goat cheese, but how festive it is to serve on a cheeseboard because it's entirely unique to the herbs and honey you add in.
6. Cut Out Sugar Cookies
Take out those cookie cutters and make a batch (or two) of these buttery sugar cookies. The combination of almond and vanilla makes them irresistible.  This recipe is a reliable classic and good for any time of year, so be sure to keep it around for any occasion that calls for something a little sweet.  You can top them with a simple powdered sugar, pure vanilla extract, and milk icing, or any frosting recipe you prefer.
7. Gingerbread Bundt Cake
A dark sticky gingerbread cake drizzled with a mascarpone icing is the epitome of holiday desserts to share.  Feel free to make this cake a day or two in advance because the spices get better with a little time. The benefit of this cake is it'll hold up for you.  The holidays can be a busy time and oven space sometimes is at a premium, so bake this gingerbread cake a day or two early and rest easy knowing you've got dessert checked off your list.
8. Custom Compound Butter
This is one of those gifts that people will be talking about for years to come. Herbs and lemon zest make this butter sing with flavor. It's perfect for steak, chicken, or a piece of salmon. You can also spread it on crusty homemade bread or on your favorite potatoes.  And the best thing is it assembles super quickly.  All you need to do is soften the butter and mix in the herbs and lemon zest.  It's easy to customize throughout the year too. In the spring, add fresh chives, in the summer try basil or nasturtium blossoms, in the fall try thyme or rosemary, and in the winter brighten things up with citrus.