So, you've decided to host your first brunch.  
Congrats on making the first step towards a successful feast for the eyes and the tummy. You have come to us for the how - and omg, we are so flattered you thought of us. You are safe here, because we speak from a position of authority. Rest easy, we come from a long line of pro-brunchers; we are talking about the Baby Boomer moms of course, and if you know, you know.  
The millennials are nodding their heads along for a reason – we know that every occasion, big or small, was always appropriately marked with a brunch. Here is why: everybody loves brunch, and to please your party patrons is to know true fulfillment as a seasoned host. Find us somebody who enters a home to the smell of bacon and brioche French toast and does not smile at the delicious promise of what is to come.  
Fact: the boomer moms have brunch nailed -- they just do. We count ourselves lucky to have witnessed their flawless execution of brunch and will spend our days trying to replicate the artform. We like to think we have learned a lot from the boomer moms, so we are going to drop some of that knowledge here, because sharing is caring.  
Lesson One: Brunch is Less of a Meal and More a Lifestyle. 
Now hear this: brunch is not a delicate plate of food consumed over a respectable hour-long sitting, it is a relay race for the appetite, an all-day affair. If you are not looking for the nearest couch immediately following brunch, please be aware that you are doing it wrong. But do not worry, we are here to help.  
A respectable brunch begins at noon, because let us be honest, nobody is coming to your house for hot coffee and egg white omelets, they want a little day drink and doing so before 12 p.m. is frowned upon in some circles (frankly, we avoid those circles).  
So, whether you are hosting a few friends or a crowd (someday)... pop those bottles. We recommend an array of bubbly (prosecco or champagne), fresh squeezed OJ or grapefruit juice, and if you are feeling extra, the hard stuff. Vodka is a tent pole of brunch, and might we put in a little word for gin here – because, honey, we are in a pandemic.  
Think mimosas, bloody Mary's, Bellini's, and the like. If you're looking to insert a little daytime cocktail to really wow the crowd with your innovative, modern approach, serve up a throwback Gin Rickey and pair it with a fresh tomato salad. It's a delicious high-brow combo that you can thank us for later.  
Lesson two: Take your Guests on a Little Culinary Journey Through Breakfast, Lunch and Dinner.  
Brunch is a mashup of the meals, by nature, and you should not feel married to just eggs or lean heavily into lunch. The long and the short is, do it all, because that is what we've learned from the boomer moms - all or nothing. We must all just bow to the wisdom here.  
Why not kick it off with fun twists on your favorite Easter breakfast dishes, but make it extra, like these stunning Herby-Beet Deviled Eggs for the ages. Anybody can make Deviled Eggs, but level up with crème fraîche and goat cheese, because you're fancy and you deserve nice things.  
While we're talking about noteworthy breakfast dishes, we would be remiss to not mention these Asparagus Tartines with crème fraîche and soft-boiled eggs. We know that eggs are essential to the brunch menu, but we're not heathens over here, so put your whisk aside and save the scrambles for your children because these tartines are where it's at.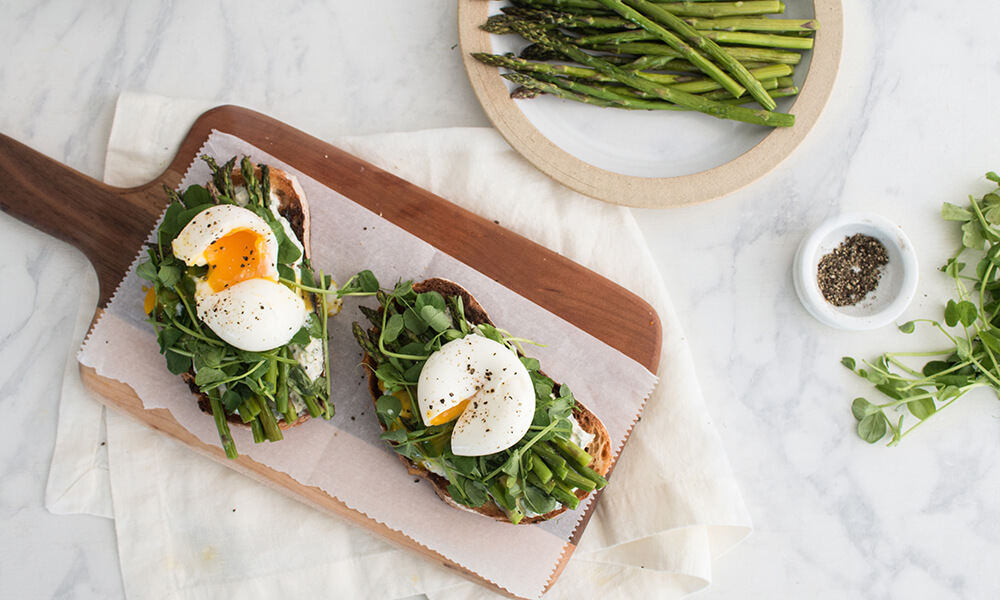 We like to include this Croque Madame twist in the breakfast category, because it serves as a superior stand in to say, a French toast casserole or other more basic attempts at brunch. This Croque Madame French Toast is a playful mashup of French Toast and the Parisian favorite, Croque Madame.  This recipe is a must have, trust!  
Bridge the gap between breakfast and lunch with a savory show piece like this potato gallete with crème fraîche and salmon, it's delicious and has just enough of the savory saltiness to warrant that third mimosa, so treat yourself. When your guests ask what galette means, just say it's French for yum.  
Brunch always seems to have an obligatory salad. It's like somebody looked at the spread of delicious dairy products, booze and pancakes and thought, "Would it kill us to eat a little mixed greens?" The answer is no, but let's not just include some greens for salad's sake. Let's incorporate some fresh seasonal produce that sings of springtime, like this Goat Cheese & Mushroom Asparagus Tart.  
Lesson Three: Cheeseboards as Centerpieces, Hear us Out.  
The boomer moms truly understand the value of a beautiful table centerpiece. They are proud card-carrying members of the local Garden Club and they aren't afraid to show off some skills in this area. Flower arranging is a soothing experience for them; we millennials can't relate, and that's okay. Sub your mom's signature floral centerpiece with an overflowing, Instagram-able cheeseboard that will keep folks huddled around the table like it's the only fire within a hundred miles on a cold, dark night.  
Don't be intimidated by cheeseboards, just throw your neuroses aside and embrace the chaos. Sprinkle in some delicious cultured butter and seasonal produce like crunchy carrots and freshly picked radishes. Need help? Look no further than this small spring cheese and butter board.  
Lesson Four: Go Big on Sweets and Treats. 
Never underestimate the power of a strong, sweet finish to a tasty brunch – the desserts. Don't you dare order a sheet cake from your local grocery store; you my friend are capable of great things – like this Ube Pound Cake with Crème Fraîche Glaze from our friend Daniela Gerson.  
Or try these stunning yet simple Mini Rhubarb Galettes, also from Daniela Gerson.  When your friends dive into these babies they'll surely ask for the recipe and you can tell them all about the hip Californian food photographer who developed the recipes.  
Ever heard of a French dessert? It's basically booze and cheese - here for it! So, as finale to the big brunch show you put on, select a beautiful aged cheese like our Bonne Bouche, and pair her with a fun cocktail like a peach julep. We've got the directions, don't worry, we know you're tired.  
Lesson Five: Navigating the Aftermath
Look at you, you did it, you killed the brunch game, and what's more? You made it look easy. We see you, well done. 
If you've followed our directions and gone well and truly over the top, it's probably about 4 p.m. and your pants are feeling tight, in a good way. You may be combing through a hideous pile of discarded dirty plates and a sink full of dishes looking for what remains of your misplaced drink.  
Our advice? Ignore the state of the kitchen. Instead, collapse in a heap on the couch with your remaining friends, and share some blissful groans for the three meals you've consumed together here today and wonder how you're ever going to get home. Your work here is done.  
For all the recipe inspiration you'll ever need for any occasion, big or small, head over to Vermontcreamery.com, and don't forget to thank your mom for teaching you everything you know about artful brunching.