We all know that Thanksgiving may look a little different than it has in the past.  Maybe you're not able to get together or travel to your usual crew so your quaren-team is having a small get together.  Maybe you're craving some simple comfort food to bring a little warmth and familiarity in some pretty challenging times – who doesn't love a surprise weeknight mashed potato?  Either way, we've got some of our favorite comfort food and or Thanksgiving recipes that are worth checking out to bring some festive and homemade feels right to your kitchen.   
Checkout 10 of our favorite Thanksgiving recipes:
1. Brown Butter Stuffing
From where we're sitting this is the queen of the turkey day recipes and one that occasionally pops up at maybe one or two other times of the year – if we're lucky.  It really should be pulled into the cooler weather recipe lineup more often because that savory and buttery stuffing is a favorite and this is the time when we need some comfort food.  It's the classic stuffing recipe you know and love, packed with flavor from herbs and aromatics. We topped ours with a crumble of fresh goat cheese for an added layer of brightness.  
2. Herb Butter Roasted Turkey
If you're looking to do turkey but maybe it's for a slightly smaller group this year, give our herb butter roasted turkey recipe a look.  One of the benefits of roasting the breast versus an entire bird is that you can reduce the cook time down to an hour and if you get a bone in breast, you still have the added benefit of still being able to make stock on the day after.  It's a little easier, faster, and still provides that turkey noodle soup benefit post-holiday that you love.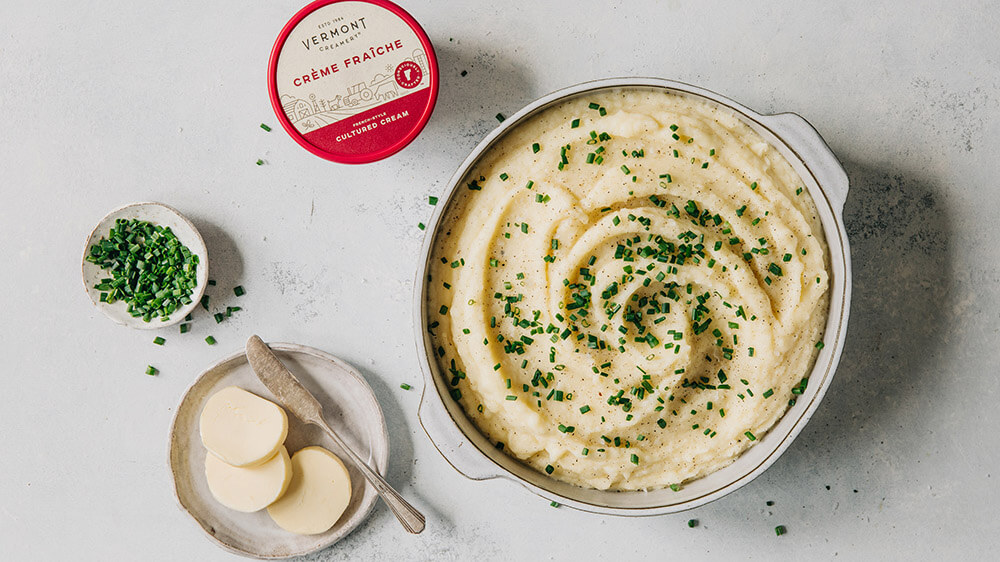 3. Crème Fraîche Mashed Potatoes 
The classic mashed potato recipe you know and love packed full of flavor from luscious crème fraîche and cultured butter.  Seriously, this is the recipe you need because potatoes were made for crème fraîche.   Every year we make probably twice the amount of mashed potatoes we need just so we can get some leftover potato pancake action.  We love turning leftovers into a little shepherd's pie or gnocchi.  Or google mashed potato waffles.  You're welcome.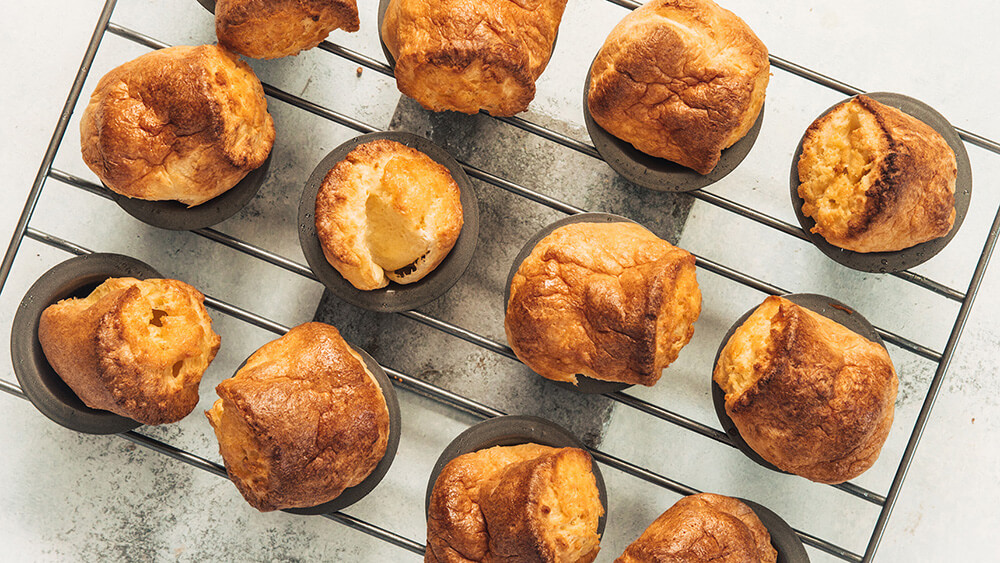 4. Popovers
If you're anything like us, you're basically here for the popovers that the holidays bring.  It's fully where we live, and we will relish their buttery and savory glory all season long.  Our popover recipe is a particular favorite because it doesn't have the long and complicated resting time in the fridge or precise temperature requirements that some Yorkshire pudding recipes have – plus they come individually portioned out which makes serving even easier.   
5. Green Bean Casserole
Here is a dish that is sometimes polarizing so we went back to the kitchen to try to find a simple and slightly updated version. This classic favorite gets an update with a flavorful crème fraîche sauce before being topped with a sprinkle of breadcrumbs, toasted almonds and lemony fresh goat cheese.  The result is a decadent and creamy cassarole from the crème fraîche sauce and sprinkle of goat cheese, balanced with a flavorful crunch from the breadcrumbs and almonds.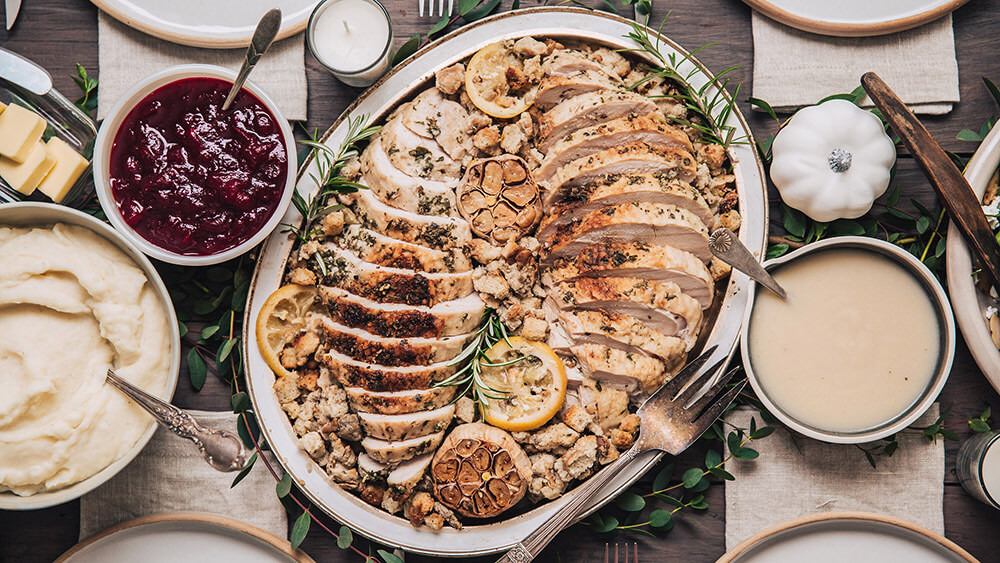 6. Turkey Gravy
Making gravy is sometimes a recipe that feels a bit mysterious in my house, so save this recipe and take the guesswork out of the gravy.  This recipe uses those tasty brown bits and turkey drippings for a rich and savory gravy; they'll add so much depth of flavor because of the herbs you roasted on the turkey and will enrich the gravy. 
7. Cranberry Rosemary Cheeseball
'Tis the season to be cheesin' with this festive bejeweled cheese ball. It's packed with bright flavor from rosemary, orange zest, and sweet dried fruit. The recipe here makes one large cheese ball, but you could also make smaller balls for easy sharing or personal plating.  This recipe is just big enough for sharing with your quaren-team, but not so big that you'll be eating leftovers for days.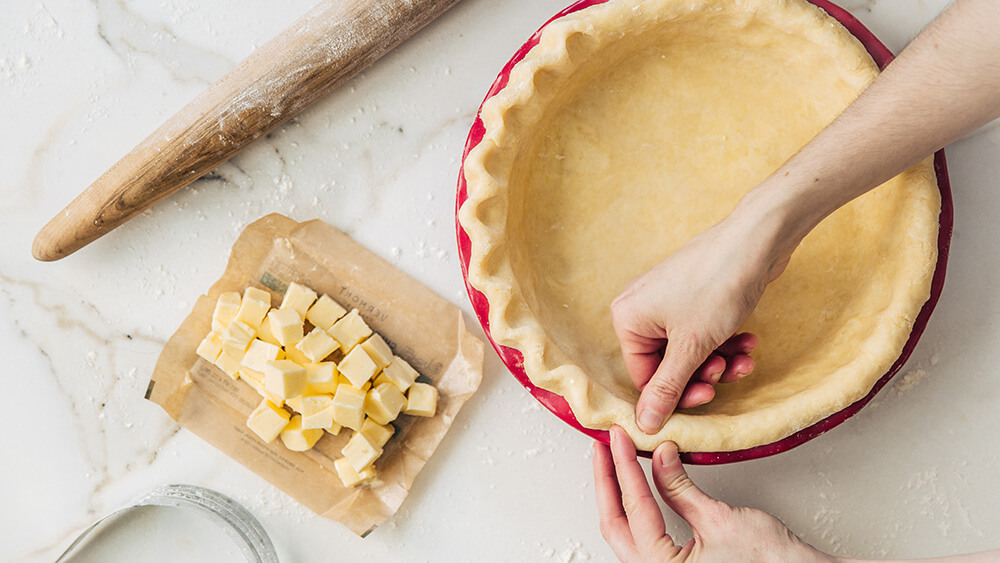 8. Butter Pie Crust
This classic all butter pie crust recipe is an everyday essential. I know there are a bunch of recipes out there but we just keep coming back to a classic flour and cultured butter combo.  Sometimes things are just good for a reason. We use it year-round as a base for all our pies. It comes together quickly and has great flavor and flakey texture from the high butterfat cultured butter. 
9. Caramel Pecan Pie
Let's all be honest, the main events of the season and what you've all been waiting for is the pie. Our caramel pecan pie is super simple to assemble with some flavorful and big rewards at your dessert table.  The crème fraîche adds a lovely depth of flavor and richness that pairs beautifully with the crisp pecans.  We highly recommend that you top all your pies with a dollop of lightly sweetened crème fraîche for an extra sophisticated finish.  
10. Slab Apple Pie
One of the major benefits of Thanksgiving is the leftover pie for breakfast the next day and while gatherings may be smaller this year we're still planning on making enough pie to ensure on some leftovers for the day after.  This slab apple pie has hints of maple and cinnamon and make the traditional apple pie even more mouthwatering. 
So, whether you're cooking for your crew or just looking for a little something warm and comforting, we're sure you'll find something in this list to help you celebrate all the things that really matter. The good food and good stories you'll never forget are the moments that matter the most.