It's time to eat your veggies.
What is it about winter that makes us all want to dive head first into a pile of pasta, potatoes and basically anything in the starch family? We blame the short, dark days and the cold temperatures that send us into this annual dietary spiral of sugary treats and savory starches. In comfort food, we trust.  
After the holiday eating free-for-all is done and talk of a January reset begins, we feel the pull back towards vegetables. But let it be in the name of delicious flavors and feeding our bodies some welcomed nutrients after said sugar cookie streak, not for the sake of diet culture, because, cringe. 
There are countless delicious ways to go heavy on the vegetables year-round, with summer being the most bountiful time to enjoy fresh seasonal salads and endless alfresco options. Winter may feel a little harder, but we're here with options for yummy winter vegetable-forward dishes.  
Here are our top five recipes that star vegetables for winter enjoyment.     
Bagel Spiced Roasted Carrots with Crumbled Goat Cheese
In the winter, when a veggie comes along, you must roast it, right? These roasted carrots are a perfect mix of savory root veg that's made slightly sweet by roasting in the oven for just the right amount of time (20-30 minutes). Since we're carb people through and through, we added the subtle homage to our favorite circular carb, the everything bagel, by sprinkling some everything bagel spice atop these delicious carrots. All the flavor of the bagel and none of the actual bagel, you're welcome.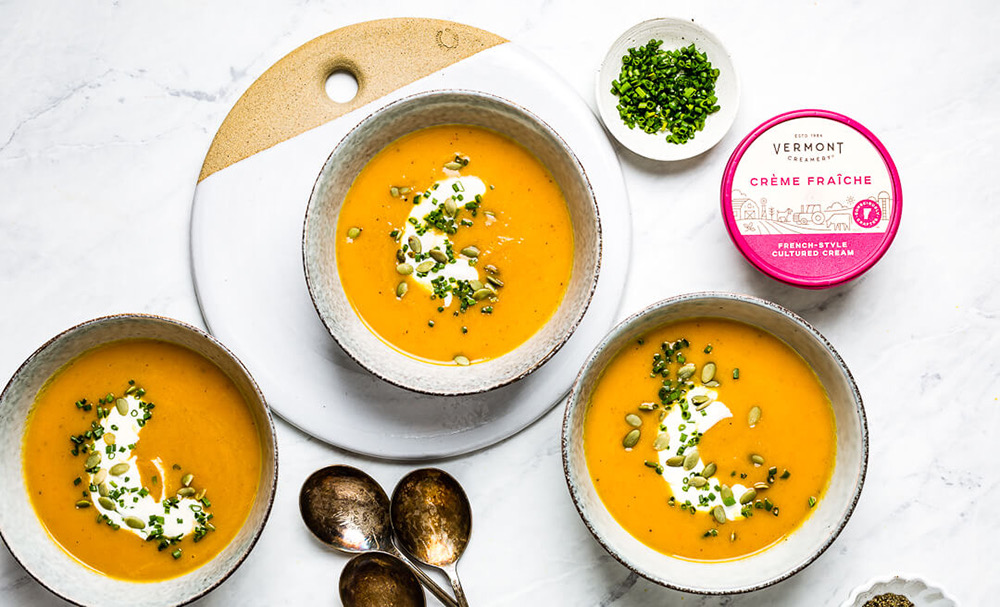 Carrot Ginger Soup 
In soup, we trust. It's cold outside, so we're all about warming up from the inside out. Soup is the perfect way to channel all the cozy winter vibes without mashing a single potato, right? This carrot ginger soup packs a one-two punch of savory sweet flavor with the fresh zing of ginger that's invigorating and refreshing on a cold winter's day. It's not a super complicated recipe either, so give it a try asap.  
Roasted Cauliflower with Whipped Zahtar Goat Cheese Dip
Veggies are just as easily enjoyed in snack form as they are in mains and sides. Take this roasted cauliflower number, which is so easy and tasty all at the same time. Thanks to this little sidecar dip of whipped zahtar and goat cheese, these roasted cauliflower florets quickly became a favorite snack and appetizer for frankly, all seasons. 
Shaved Brussel Sprout Salad
All the hail the heartiest of hearty winter salads, the shaved Brussel sprout salad. Take the cruciferous glory of the Brussel sprout, and shave them down until it's basically a tiny cabbage salad full of good crunch thanks to sliced apples and hazelnuts.  
Beet and Arugula Salad with Apricot Thyme Crumbled Goat Cheese  
It's not technically what we would consider salad season, but it is root vegetable season, so this beet arugula and beet salad checks all the seasonal boxes, for those keeping track. This salad has all the things. It's earthy and slightly spicy, thanks to the arugula greens, it's got the creamy goodness of fresh goat cheese, and the sweet flavors of dried apricot.  
Not feeling vegetables? Want to see something in a pastry or pie? No worries, we've got plenty of delicious recipes for everybody, from the carb-loving to the dairy queens and kings. Head over to our recipe collection to find the perfect mealtime (or snacktime) solution for you!