Vermont is known for a few things and skiing is at the top of the list. With the Green Mountains running through the length of the state, and winter lasting for months on end, it's no wonder that many of us embrace this beloved outdoor activity to escape the indoors and have fun.  Numerous ski areas and resorts pepper the state, making this timeless winter tradition a favorite of Vermonters and out of towners looking for a winter get-away.  
As much as we love getting outside, we also love the snacks and treats that happen after we finish on the slopes.  And whether that means a simple cheese and cracker snack attack to satisfy your hungry crew in the parking lot, around a bonfire with drinks and blankets, or with your crew back at the Airbnb, there's nothing quite like cracking open something cold and refreshing, sharing something delicious, and having some time to connect with the people you care about.  
There's something unique in a late-ish afternoon/pre- dinner time snack sesh.  It definitely doesn't need to be complicated, and maybe that's the main benefit of going the cheese route, because all you have to do is unwrap a bit of cheese, pull out some fruit or open some nuts or crackers. It's such a savory and satisfying treat. It's a delightful little bonus food time and frankly, we're here for it.  
To help inspire and instigate your snacking activities, here are some of the things we particularly love to dig into after skiing or romping around in the snow. Whether you're looking to warm up with some hot and melty St. Albans spooned over roasted potatoes or you want something extra fast that can be assembled as quickly as your kid loses a single mitten (again), we've got you covered.   
Explore some of our favorite recipes for apr?s ski snacking: 
Goat Cheese Stuffed Peppadew Peppers
These no-frills goat cheese stuffed red peppadew peppers make for a simple and delicious starter or snack. Feel free to assemble them in advance and store in a tupperware while you play all day.  Don't know about you, but when we finish a long day of romping around outside, we're ready to eat and waiting is hard.  
Baked St. Albans with Herb Roasted Fingerling Potatoes
Love fondue but don't want to hassle with the assembly or the leftovers? Give St. Albans a try.  If you've never met this cheese before you're in for a treat.  It's Vermont Creamery's take on a St. Marcellin style cheese and comes in a little ceramic crock. Pop it in the oven to warm, and in a few minutes, you have a molten cheese that's like a mini fondue.  Spoon St. Albans over crisp, herby seasoned potatoes in this simple yet decadent dish.   
3. Vermont Chill Cheeseboard
We are always team cheeseboard and for anyone who isn't regularly cheeseboard-ing, you're missing out.  They assemble quickly, they're flexible and fun. The flavor and pairing combinations are endless.  This cheeseboard by Pastoral's own Jordan Edwards was inspired by his ideal day off. Keep it simple, and balanced with crisp granny smith apples, sweet kettle corn, and a fresh baguette.  
Herb Marinated Goat Cheese
This herb marinated goat cheese is one of the easiest ways to take your cheese and snacking to the next level.  You can customize the herbs based on what you have on hand, and feel free to add in some garlic cloves or roasted peppers to the olive oil as well.  The combination of herbs and flavors will make that batch even more unique and special.  Prep the night before then store in a wide mouthed weck or mason jar for portable snacking on the go. 
Cremont Pairing & Pink Fizz Cocktail
Your cheese pairings don't need to be comples to be delicious and impactful.  In this pairing, we combine indulgent double cream Cremont on a crisp oat cake cracker with a spoonful of sweet jam pairs which pairs perfectly with this refreshing citrus pink fizz cocktail.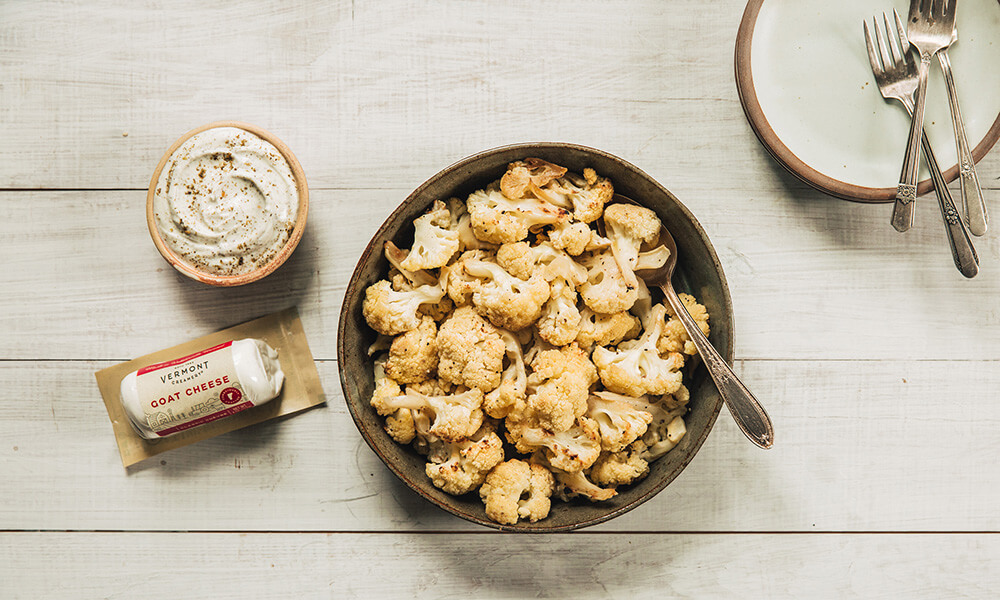 Roasted Cauliflower with Whipped Fresh Goat Cheese
The mild tang of this whipped goat cheese dip perfectly complements buttery roasted cauliflower florets. It's a satisfying balance of textures and flavors.  And if you're not feeling like waiting for the veggies to roast, we still highly recommend the goat cheese dip recipe which can be served alongside bread or crackers and crudit?.