Whether you're whipping together a brunch dish for your family, or a quick dinner on the go, there are infinite ways to bring cheese into your cooking repertoire.  Honestly, we're kind of here for meals with cheese because the addition of cheese can bring added interest, protein and bright flavor to dishes.   

One main benefit to cheese is how versatile it truly is.  It can be stirred into pasta or your grain of preference, it can be crumbled on top of salads or swirled into soup.  It can be added into desserts or used in breakfast dishes.  The possibilities are endless and it's fun to bring in a variety of cheeses to liven up your meal plan.  So, whether you are spooning a bit of cool and creamy mascarpone into your sauteed mushrooms or topping a grain bowl with some bright and lemony fresh goat cheese, we're here for it.  
Here are eight of our favorite ways to incorporate cheese into our meals: 
Baked St. Albans
Think outside the crock. Pile a spoonful of jam and a sheet of puff pastry atop St. Albans and bake for a fresh take on the traditional cheeseboard. St. Albans is like a mini fondue for two, and the addition of fruity jam and a bit of premade puff pastry makes for a super simple assembly with big flavor and fun eating rewards.   
Mushrooms on Herbed Mascarpone Tart
This flaky mushroom tart is filled with a mix of wild mushrooms, garlicky pea shoots, and herbed mascarpone.  The addition of the herbed mascarpone creates a layer of creamy and bright flavor for the sauteed mushrooms and garlicky pea shoots.  Serve it as a starter to kick off dinner, or as a flavorful entree with a hearty salad alongside.   
Baked Eggs
Baking eggs is a great way to have them all come out at the same time.  This recipe from Alana Kysar of Fix Feast Flair, is made with ramps, sweet onions, and goat cheese. The addition of Bijou, a little aged goat cheese, to the baked eggs creates a big boost of flavor to pair with the sweet onions, tart tomatoes, and creamy egg. Pro tip, if you can't find ramps, swap in scallions for this recipe.  
No-Bake Ch?vre Cheesecake
It may not be the first ingredient that comes to mind when you think cheesecake, but the addition of fresh goat cheese makes for a delicious dessert that is light and airy.  Our favorite benefits of this recipe are it's a no-bake cheesecake and it's easy to make ahead and keep in the fridge for whenever you're ready to serve. 
5. Grain Bowls
We live on grain bowls and know many of you do the same, especially with a sprinkle of fresh goat cheese. This grain bowl recipe is a favorite of ours and reheats well for lunches. It's simple to assemble and packed with flavor and protein. Plus, it's topped with a cr?me fra?che ranch dressing. You're welcome!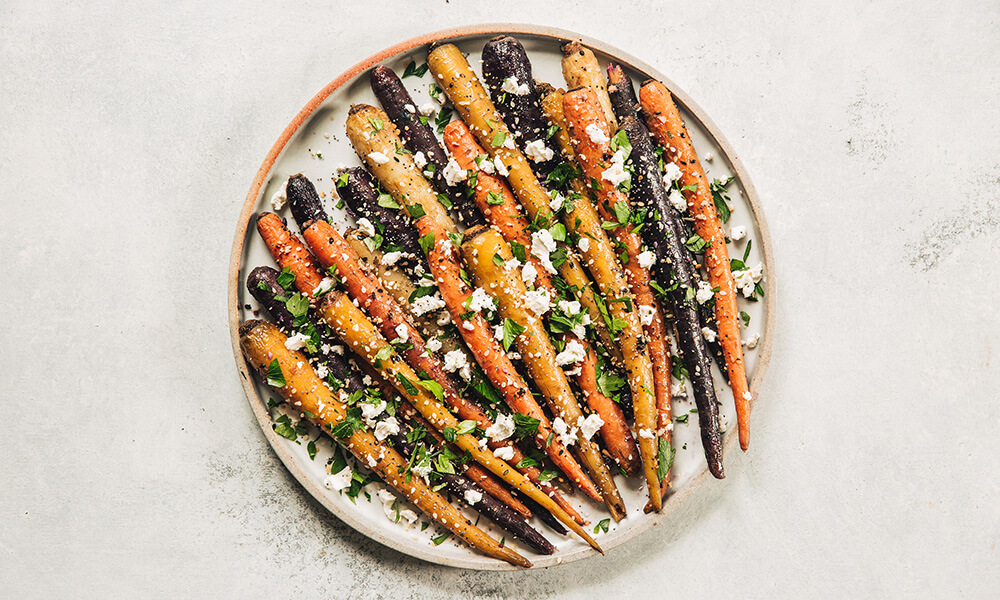 Roasted Carrots
Sweet roasted carrots get a flavor upgrade when sprinkled with a favorite savory everything bagel coating. Roasting carrots is a weekly staple over here, and we love finding creative and new ways to season vegetables and topping them that makes this weekly essential feel new.  Tossing the carrots with everything bagel spice adds a lovely crunch that pairs beautifully against the bright and lemony fresh goat cheese.  
Mascarpone Risotto
We're kind of here for adding cheese to carbs.  One cheese that sometimes gets overlooked but is super versatile and flavorful is mascarpone.  We love using a spoonful in soups and stews or with pasta or grains.  So, give this recipe a try and dig into a hearty bowl of mascarpone risotto topped with roasted radishes and chives.  Roasting the radishes gives them crisp edges and tender, mild centers; make an extra batch of them and add to your salads or top with goat cheese for a delicious snack. 
8. Berries & Mascarpone Cream Cake
Take mascarpone cheese beyond tiramisu and add it to your regular dessert recipe lineup. This simple, yet decadent cake from is prepared ahead of time for effortless serving the day of.  Pound cake layers alternate with flavorful fruit and a light mascarpone cream layer for a delicious dessert to share. What's better than fluffy and light layers of cake paired with sweet fruit and decadent sweet cream?