Spring has sprung and Easter is just around the corner, which for many means it's time to break out the egg dying kits and get ready for brunch – aka the day your breakfasts have been preparing you for all year long. While a large gathering for dinner may be off the table this year, there's no reason why you can't go all out for an extra special showing at brunch for your in-home team.  Also, anticipating that some of you might want to drop off Easter treats with your neighbor, friends and family, we pulled together some suggestions for boxing up brunch to share. So, break out the eggs & cultured butter, and maybe some mimosa ingredients, and let's gear up for the ultimate Easter brunch! 
Brunch Benefits 
In our humble opinion, there are many benefits to brunch.  Honestly, what's not to love about a meal where pretty much anything goes?  This single meal allows for anything from breakfast classics like eggs, potatoes, bacon, and waffles, to lunch fare like sandwiches, salads, and even pasta.  It often comes with alcohol and is finished with pastries and or cake.  If we could eat only one meal for the rest of our lives, it would absolutely be brunch. Whatever your style, we have a collection of recipes sure to please for your Easter brunch, everything from baked eggs with cheese to hasselback scalloped potatoes, a decadent strawberries & cream cake, and more.  
A Butter Brunch 
For all of brunch's versatility of food dishes, one unifying secret ingredient to a brunch's success is none other than cultured butter.  What else does one use to top a tower of waffles, smear on a bit of fluffy brioche, or bake pastries with?  And, if you're not frying your eggs in cultured butter, you're missing out on a huge flavor opportunity.  Vermont Creamery's cultured butter is made with 82% butterfat which boosts your brunch dishes from every day to egg-stroadinary.  A slightly higher butterfat not only brings added depth of flavor that's lightly tangy, but also has a higher smoke point for frying eggs or french toast which means they won't burn as quickly as lower butterfat sweet cream butters.  So whatever you decide to bring for brunch, you butter believe a bit of cultured butter is in order.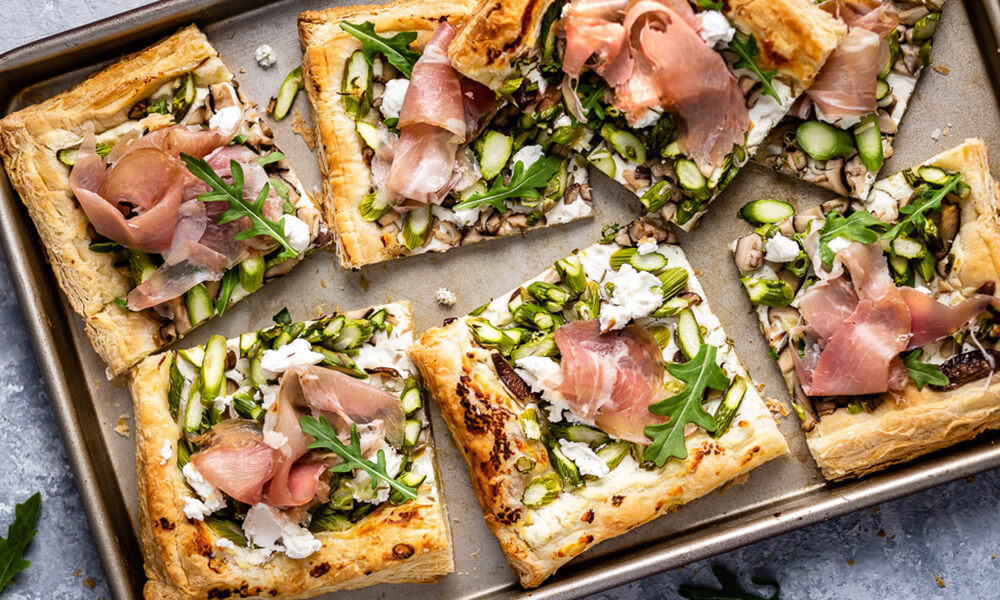 Sharing the Brunch Goodness 
This year we've been getting extra creative on ways we can celebrate the holidays with family and friends that we can't be with in person.  And to support this, we've included a few brunch recipes that also happen to work well as food to-go.  Dishes like our goat cheese, mushroom and asparagus tart, deviled eggs, brioche rolls, spring sugar cookies, and even our cinnamon babka ring with rum mascarpone glaze all can be assembled in advance and will still taste great when ready to eat. This also means much of the cooking and prep will be extra easy since they can be prepped ahead of time and finished when ready to serve.  So, take a look at our list and put a box of goodies together to share with your loved ones.  
Boxing up Brunch 
In our house there are always extra treats, like a double batch of cookies or a casual little loaf of some sweet bread topped with a cinnamon crumble of some sort.  So, trust me when I say I've mastered boxing up treats to share. A few words of advice if you want to drop off food to your parents or friends down the road? Plan for dishes that will hold up to a little traveling jostle, are less messy, and will still taste great at room temperature or will reheat well.  It's easy to package food in saved takeout containers or small wax paper-lined boxes, which are great for the heftier dishes like potatoes or deviled eggs.  Small wax paper bags or parchment paper are also good to fold around thick wedges of a tart or fragrant slices of babka.  Make sure to bag or box up all dishes from heaviest to lightest/most delicate and remember to separate anything warm from items that might melt or need to be kept cool.  
So, whether you're Easter brunching for two, or a family of four (or more), there's sure to be a few recipes here that help bring this festive holiday to life in a delicious and special way.  It may not be the large gathering we'd all like, but there are lots of creative ways to connect with some delicious food to show you care.  

Get the Ultimate Easter Brunch Menu Here: 
Very French Toast?

A staple of our weekend brunch cooking, french toast is a comforting morning meal and a great use for bread leftover from last night's dinner. This dish is a crowd-pleaser we come back to regularly, plus it's easy to size up or down depending on who you're cooking for. Top yours with a pat of cultured butter and a drizzle of maple syrup, or a dollop of cr?me fra?che and a sprinkle of fresh berries.  
Get the Recipe for Very French Toast Here 
---
Goat Cheese, Mushroom and Asparagus Tart?
Goat cheese spread on a buttery puff pastry sheet, topped off with cool and bright fresh goat cheese, mushrooms, and asparagus and baked for perfection. Ready in less than 30 minutes, this easy to make asparagus puff pastry tart from Foolproof Living is perfect for advance prep and for to-go sharing with friends and family.  
Get the Recipe for Goat Cheese, Mushroom & Asparagus Tart Here 
---
Brunch Bruschetta 
We eat this bruschetta from Brett Braley for breakfast, lunch, or a quick dinner. Top a thick slice of crusty bread with a layer of fresh goat cheese, crisp microgreens and jammy roasted tomatoes and a fresh, runny egg. This is a simple recipe that still feels extra special for a festive celebration.  Pair yours with some homefries or hashbrowns and a tossed salad.   
Get the Recipe for Brunch Bruschetta Here 
---
Hasselback Scalloped Potatoes
What is brunch without potatoes in some form? Yes a hashbrown or homefry is typical breakfast fare, but if you want to take your 'taters to the next level for brunch, we recommend these cheesy scalloped potatoes from Broma Bakery.  They are the perfect dish to share at a celebration or holiday event and this recipe brings a fantastic crisp around the edges by using slightly less liquid and arranging the potatoes vertically in your pan.? 
Get the Recipe for Hasselback Scalloped Potatoes Here 
---
Deviled Eggs Three Ways
While we're always down for a deviled egg no matter the season, spring and Easter are really where these delicious little treats shine.  Our take on deviled eggs gets a flavorful update with the addition of bright and creamy cr?me fra?che. ?Try these three quick & easy recipes for Easter brunch or as a snack during the week. ? 
Get the Recipe for Deviled Eggs Three Ways Here 
---
Shaved Asparagus Salad

Dig into this hearty and vibrant salad made with shaved asparagus, spring peas, and microgreens tossed in a simple lemon and cr?me fra?che dressing and a sprinkle of chopped pistachios.  We love it served alongside some beautifully baked eggs or an egg topped brunch bruschetta.   
Get the Recipe for Shaved Asparagus Salad Here 
---
Brioche Rolls
These fluffy, tender homemade rolls are the stuff dreams are made of. Don't let the name brioche stop you from making this super simple enriched bread. They assemble quickly and are totally worth the effort.  We recommend serving them warm with a big pat of cultured butter and some eggs or a spoonful of jam.  
Get the Recipe for Brioche Rolls Here 
---
Baked Eggs with Ramps
Baking eggs is a great way to cook eggs for a crowd and have them come out at the same time.? This recipe from Fix Feast Flair is spring-in-a-dish, with ramps, sweet onions, and goat cheese. If you've never baked eggs before, it's super simple and your eggs are all finished at the same time.  Pro tip:  cook your bacon on a cookie sheet and when it's 12-15 min from being done, pop the baked eggs in.  Serve with a little salad or a slice of cinnamon babka and brunch is served! 
Get the Recipe for Baked Eggs with Ramps Here 
---
Cinnamon Babka Ring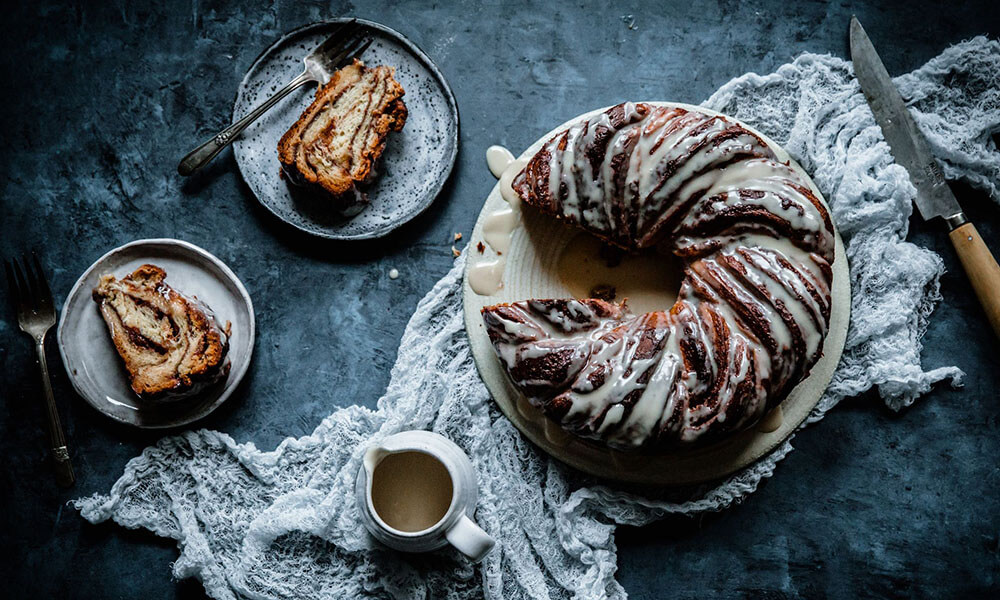 This dreamy babka is baked with layers of brown sugar, cinnamon, and maple sugar then topped with a boozy rum and mascarpone glaze. It may take a bit of extra prep time, but is well worth the effort, and is perfect for sharing so don't be afraid to double the recipe and drop a loaf off at a friend or neighbors doorstep as a decadent surprise. 
Get the Recipe for Cinnamon Babka Ring Here 
---
Easter Candy Cheeseboard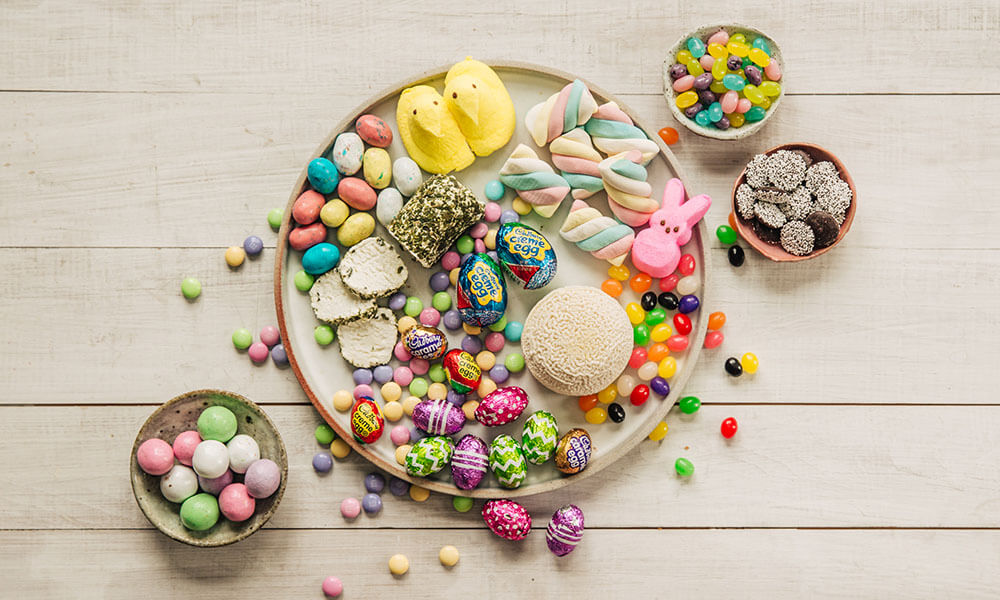 The cheese, chocolate and candy board you've secretly always wanted to make.  This playful and decadent cheeseboard is full of Easter treats for the entire family. It's the perfect thing to snack on while the kids are running around on an egg hunt, after all, adults need treats too. So snag some fresh and aged goat cheeses, your favorite pairings and some Easter candy and get to snacking! 
Get Pairings for this Easter Candy Cheeseboard Here 
---
Spring Sugar Cookies?

Take out those cookie cutters and make a batch (or two) of these buttery sugar cookies. Top them with your favorite?frosting recipe?or a layer of royal icing that, once dry, is painted with food coloring.? It's a fun activity for the whole family to help welcome spring! 
Get the Recipe for these Spring Sugar Cookies Here 
---
Strawberries & Cream Cake?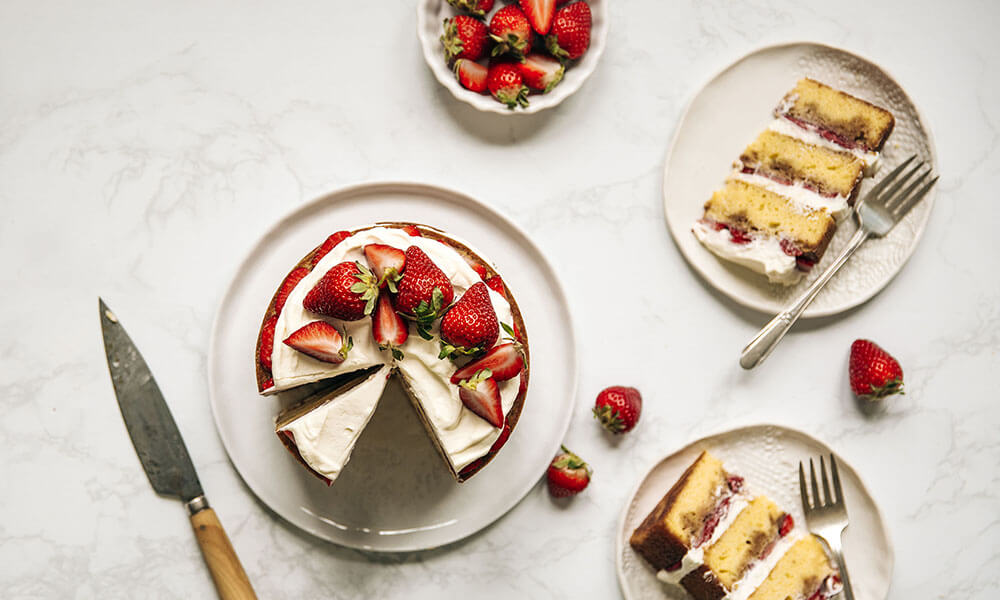 A cross between a tiramisu and strawberry shortcake, this strawberries & cream cake is made with dense layers of vanilla cake that are brushed with kahlua and coffee, fresh strawberries, and clouds of light mascarpone cream.  It's a bright and flavorful spring dessert sure to please.   
Get the Recipe for this Strawberries & Cream Cake Here 
---
Betsy manages content marketing and creative production at Vermont Creamery and believes that the eyes eat first.  

An avid baker, home cook and artisan cheese devotee, Betsy is at home in the kitchen and behind the lens of her camera, crafting food that tastes as great as it looks. 

Follow her Instagram here